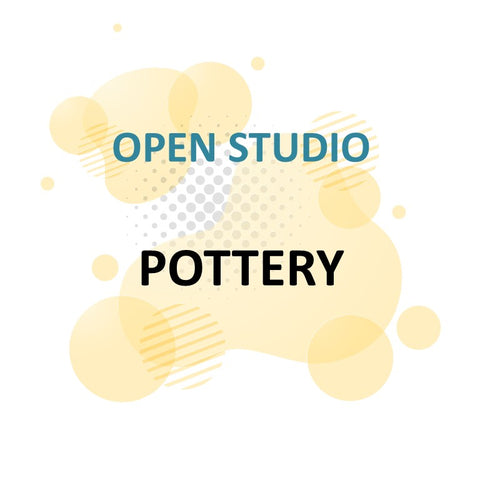 Pottery - POTTERY OPEN STUDIO
If you are a Visual Arts Center Member and Potter, and are a current or past experienced student, the VAC Pottery studio is available for you to work in to finish your class project or start something new. All members must have prior approval from a VAC potter instructor.

POTTERY OPEN STUDIO: $25 Members   $35 Non-Members 
 Each Week: Wednesday, 9am-12pm & Tuesday, 1pm-4pm
Sessions are designed for experienced potters who are familiar with the VAC Pottery Studio, have previously participated in a VAC pottery class, can work without supervision and have approval from a VAC instructor.  Does not include clay.  Clay may be purchased for $30 per 25 lbs.  Session includes glazing (using VAC standard glazes) and firing. 

Storage:  Clay, tools, and projects cannot be stored in the Pottery Studio.  
You are welcome to use the full 3-hour period, or just a portion of the time, however, the fees are per session, for whatever amount of time you are there. The VAC may substitute Open Studio Session Coordinators with other Instructors, advanced students or staff members at any time without notice. 

Register Online:  To reduce personal contact, please register in advance and pay for sessions online. If you have any trouble using the website to register or pay your fees,  please call the VAC at 941-639-8810 (from 10am to 2pm, Monday through Friday) or email info@visualartcenter.org and someone will help you.  Please do not show up without registering.  If there are no advance registrations, session may be cancelled.